Retaining Walls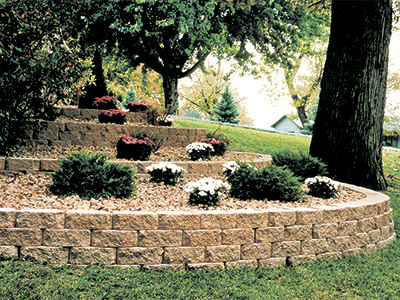 When you are building any outdoor features on your property, you need to ensure that that there is stable land to build them on. In some cases, it becomes necessary to excavate certain portions of the landscape like sloping land to make room for features such as an outdoor kitchen, a pathway, driveway or even a driveway; and retaining walls are built to support the exposed rock to prevent it from collapsing.

Companies like Atlas Landscaping and Construction provide excellent retaining wall design services to customers in and around Mentor-on-the-Lake, Mentor, and Painesville. They have also very successfully handled various projects for clients across Willoughby, Euclid, Kirtland, Perry, as well as Cleveland, and completed numerous retaining wall construction projects in Eastlake and Fairport Harbor and the surrounding areas. They provide a variety of services such as:


Retaining Wall Blocks
Concrete masonry units also called CMUs are commonly used in retaining wall construction projects. These units are strong and sturdy and very long-lasting as well. They can be used to build walls of any size and height. If you don't fancy the look of a grey concrete wall surface, stone or brick veneers can be used to clad the surfaces and improve their appearance.


Concrete Blocks
Retaining walls are specially engineered to support and add integrity to the landscape and it becomes necessary to use strong materials that would be able to weather the climatic conditions. This is why concrete blocks are used in the construction of these walls and these modular units are easy to install; they create a very strong and resilient wall structure that functions well and provides the garden spaces the support they need.


Building A Retaining Wall
Constructing a retaining wall is something that only specialist landscapers should handle. They will engineer the feature to perfection, choose the right materials and use the right techniques in building the wall. These walls can be of any height and length and can be built on commercial and residential properties.


Retaining Wall Design
Many people wonder whether it's possible to make a plain concrete retaining wall look more appealing. Experienced landscapers would be able to design special features like built in seating or planter installations into the structure of the retaining wall. These elements add to the functionality and aesthetics of the wall.


Block Wall
When you excavate a slope on your property to make space for some outdoor installation like a driveway, patio or deck etc. that leaves a portion of the soil and rock exposed. Building a block wall along the excavated space helps support the landscape and enhances the resilience of the landscape as it prevents soil erosion.

If you want great retaining wall design and plans, you need to choose a company that would be able to provide you custom solutions at a competitive cost. Local companies like Atlas Landscaping and Construction provide end-to-end customized block wall design solutions that will fit in with your needs.


"MORE ARTICLES"
Landscape Design
Landscape Maintenance
Outdoor Kitchens
Pavers
Snow Removal

We Provide Services to the Following Cities, Towns and Surrounding Regions of OH: