Landscape Maintenance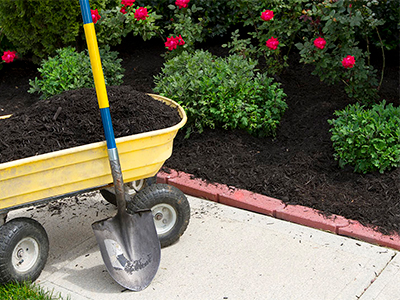 When you have beautifully landscaped gardens on your property, you want to ensure that they stay looking good right through the year as well. Well - manicured lawns, properly trimmed and pruned trees and shrubs; and debris and dirt-free hardscaping features add to the appeal and value of your property.

But as a homeowner you know exactly how much effort and time goes into ensuring these spaces are kept in top condition. This is where expert landscaping contractors like us come into the picture. We at Atlas Landscaping and Construction have handled a large number of Landscape Maintenance projects for customers in an around Mentor on the Lake, Willoughby, Eastlake, Painesville as well as Willowick.

We also cater to clients in Wickliffe, Euclid, and Richmond Heights. We have a very strong customer base in Mayfield Heights, Lyndhurst and the surrounding areas and have handled a number of landscape maintenance jobs there as well. As experts in the field, we recognize that when it comes to their landscapes, homeowners don't want to deal with multiple service providers; this is why we provide excellent landscape design, installation and maintenance solutions. In short, once you hire our services, you don't have to look any further and we can cater to all your landscaping requirements.


Range of Landscape Maintenance Solutions
With years of horticultural and landscaping experience behind us, we know how to provide custom yard maintenance services that will meet your needs perfectly. While every landscape is different, there are certain common services that are needed for most properties, such as:


Mowing
Trimming and pruning
Aerating
De-weeding
Pre-emergent and post-emergent weed control
Pest control services
Fertilization
Hardscape maintenance
Water feature maintenance
Paver clean and seal
Repairing landscape construction elements
Leaf blowing
Re-sodding and re-seeding
Other
Custom Landscape Care Plans
As mentioned earlier, we understand that every property is different and that the customized approach we adopt ensures you pay only for the services you actually need. Even as we focus on providing our clients value for money, we also prioritize doing our bit for the environment and use only organic fertilizers and pest control products in our work. All the plantings, soil and sod is sourced from the best nurseries and this ensures they are disease-free. It helps your landscaping stay healthy and looking good for a number of years.


Benefits of Regular Landscape Maintenance
A well maintained landscape adds to the value of your property and encourages you to use these spaces more often. When you have well-maintained front and backyards, you will find that you like to use these areas and spend leisurely moments with your family and friends. You only have to tell us what your requirements are, and we will ensure you are provided custom landscape care solutions.

We are the specialists that go the extra mile to ensure our customers are 100% satisfied with the services we provide them. For any more information about landscape care and to discuss your project details, speak with the Atlas Landscaping and Construction experts at this number - 440-728-4879. You are assured of the best services at very reasonable landscape maintenance cost.
We Provide Services to the Following Cities, Towns and Surrounding Regions of OH: