Outdoor Kitchens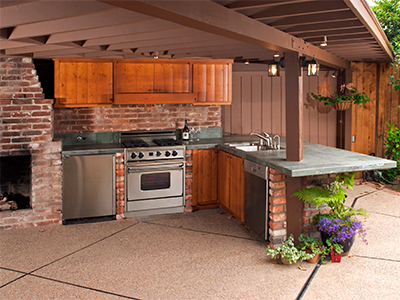 When you have landscaped areas on your property, you want to use them optimally. And it's also why you hire expert landscaping professionals to design and plan these areas. Most people also like features like outdoor kitchens installed in their yards. An outdoor kitchen becomes a great space to entertain friends in and you can have BBQ parties and dinner parties in this spot as well. But for that you need to hire experts for the design and installation.

You can contact a company like Atlas Landscaping and Construction for excellent outdoor kitchen design services. They cater to customers in and around Mentor-on-the-Lake, Mentor, and Painesville. They have also very successfully handled various projects for clients across Willoughby, Euclid, Kirtland, Perry, as well as Cleveland, and completed numerous outdoor kitchen installation projects in Eastlake and Fairport Harbor and the surrounding areas. They provide services such as:


Outdoor Kitchen Ideas
The exterior kitchen has to be planned with care and attention to detail. After all, you want to make best use of the available space and ensure it looks great too. This is why hiring a good outdoor kitchen designer is a great option. These professionals provide outdoor kitchen ideas and include your ideas to provide plans that will fit into your budget. They will also ensure that the materials and products used are tough and hardy to endure the elements. The experts will make sure that the elements and theme used complement the look of the indoor and outdoor spaces on your property and that there is a proper flow and aesthetic.


Outdoor Kitchen Designs
If you are considering installing an outdoor kitchen in your yard, you want it to be functional and aesthetically appealing. In addition, you want to make sure that there is proper seating space and that all the appliances you want to accommodate will fit in well there. This means the design and planning of this space has to be done with care. Skilled landscape planners will provide you an outdoor kitchen plan based on your requirement and budget and will ensure that good quality materials are used in the work. This adds to the attractiveness and longevity of the installation.


Outdoor Kitchen Plans
Creating outdoor kitchen plans is a lot about making sure that the all your ideas are incorporated into them; there should be a proper movement flow in the space as well as sufficient space for all the appliances and gadgets you need there. Some homeowners also like to install a fireplace or fire pit to enhance the comfort and warmth in that space. Some outdoor kitchens are standalone features that may be built in any area of the yard while others may be build adjacent to the house or even on the patio; and the plans for these different kitchen styles will vary as well.

If you want great outdoor kitchen design and plans, you need to choose a company that would be able to provide you custom solutions at a competitive cost. Local companies like Atlas Landscaping and Construction provide end-to-end customized exterior kitchen solutions that will fit in with your needs.


"MORE ARTICLES"
Landscape Design
Landscape Maintenance
Pavers
Retaining Walls
Snow Removal

We Provide Services to the Following Cities, Towns and Surrounding Regions of OH: