Services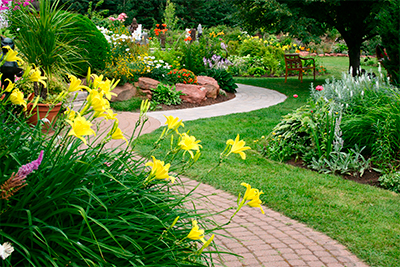 We at Atlas Landscaping and Construction have handled a large number of Landscape Design & Installation projects for customers in and around Mentor, Cleveland, Beachwood, Lakewood and Kirtland. Our company has a very strong customer base in Willoughby, Euclid, Perry and the surrounding areas and we have handled a number of landscaping jobs there as well. The different services we provide are:


Mulching
We offer mulching services using either organic or inorganic mulch. We can supply any quantity and ensure the correct application to provide the best results. With the right mulch, you can prevent soil compaction, weed growth, and lawn mower damage. The soil will also be much more conducive for the growth of your turf and plants so you'll have a healthier landscape. Read More About Mulching »


Bush Trimming
Numerous situations might arise when your bushes and shrubs outgrow their surroundings, necessitating the assistance of a skilled plant and shrub caretaker. Applying the right ways of trimming, we provide services to ensure the continued good health of your plants. Tree pruning can alter the shape, height, and visibility of the plant's top, increasing its artistic appeal and practicality. When handled by an experienced professional, pruning, and trimming cause only minimal harm and, in some cases, can even extend the life of a shrub. Our staff members have extensive experience and academic training, allowing them to do tasks quickly and accurately. When we prune trees, we take great care to avoid damaging them. If the bushes and shrubbery on your property are growing out of control, don't hesitate to contact us to present you with the best pruning services we can offer. Our services are guaranteed high-quality outcomes at a reasonable cost since they are individualized to match your unique requirements. Read More About Bush Trimming »


Landscape Design
Creating beautiful outdoor spaces is a about ensuring that all the features in the landscape blend in well with each other and that all the installations complement the look of your home and any outdoor features that exist on the property. We provide excellent landscape design and installation solutions and include features such as softscaping, hardscaping, water features, fire features, retaining walls etc. Read More About Landscape Design »


Landscape Maintenance
A well-designed landscape will look good only if it is maintained well. Yard maintenance can be a major hassle and it can be very time-consuming if you handle it yourself. This is why it's a good idea to hire expert landscapers for the maintenance of your yard and garden spaces. As part of these services, we provide mowing, aerating, de-weeding, fertilization, pest control, tree trimming and pruning, res-sodding etc. Read More About Landscape Maintenance »


Pavers
It is a good idea to look for strong and long-lasting materials for your landscaping and pavers are an ideal option for most outdoor areas on your property. You can choose from brick, natural stone and concrete pavers and we ensure these installations are handled to perfection. You can also install interlocking pavers and these add to the resilience of your landscaping. Read More About Pavers »


Retaining Walls
When you have sloping land on your property, you need to ensure that the landscape has the proper support. This is especially important when you are getting any outdoor feature installed and have to excavate part of the slope. We can build retaining walls using bricks, natural stones or concrete masonry units and these provide the landscaping the support it needs. Read More About Retaining Walls »


Planting
We source saplings and seedlings from the best nurseries in the area, ensuring you won't acquire subpar or unhealthy tree species. It improves the well-being of your outdoor spaces and lowers the maintenance costs related to them. The team will evaluate the area and note whatever trees and plants are already in the backyard or garden. After that, they'll develop a comprehensive plan and recommend the best landscaping plants. Picking anything pretty at a nursery is not enough to choose suitable trees. The trees we suggest will be a tasteful blend of hues, textures, forms, and sizes. Our meticulous approach assists in designing the ideal textures, shades, and styles for your landscape. Our crew will place the trees in the proper topsoil for optimal results, ensuring they suit your backyard and individual stylistic needs. We only utilize high-grade trees and saplings to ensure their survival, aesthetic appeal, and long-term viability in your landscape. Read More About Planting »


Grading
The movement of water does not defy gravity. When it rains or when the snow melts, water naturally flows downhill, which we could take advantage of through proper grading. When our experts grade your property, we add purposeful, barely visible gradients. The slopes move excess water from your property even though they aren't steep enough to cause erosion. The graded ground will direct extra water toward properly placed gutters and drains. It keeps the water from getting to the road or sidewalk next to your property. One of the best ways to direct water away from the foundation of your house and prevent basement flooding is to use this technique. Surveying the land and figuring out its topography will be the first step. We carefully examine the surroundings and assess the terrain's natural slope to determine the situation. We take these measurements into account and then grade the ground so that water flows away from your garden rather than pooling in low spots. Read More About Grading »


Drainage
We include drainage system design and installation in all our landscaping packages. Additionally, we assist clients who need drainage system modifications or expansions, and our carefully thought-out solutions guarantee that we will solve the standing water problem. We specifically design drainage strategies for each location since every landscape is unique. Trench drains, zone drains, and French drains are among the many types of drainage systems we plan and construct. We design stormwater and garden drainage channels for your area, which aids in eliminating issues like rainfall gathering and floods and keeps your outdoor spaces in excellent condition. We can complete even the most challenging drainage installation jobs thanks to our use of top-notch materials and knowledgeable, experienced personnel. When you hire us, we offer quality services at cost-effective pricing. Together, you and our team will ensure that the finished landscape drainage features meet all your requirements. Read More About Drainage »


Excavation
Digging and excavating are integral parts of almost any landscaping job. These activities must be well-organized and executed with care and skill. Our firm does excavations for new landscaping and drainage systems, and we do the same for landscaping renovations and additions. No matter how simple or complicated your problem may be, we can help you find the optimal answer. With over 30 years of experience, our staff knows the best way to handle any excavation or landscaping job. When working on commercial or residential projects, we consistently employ cutting-edge equipment and techniques to guarantee a problem-free and timely conclusion. To discuss your needs with a member of our knowledgeable and talented staff, please get in touch with us. Our professional, qualified, and proactive team will provide you with the most outstanding quality services at the lowest possible excavation pricing, giving you the value, you expect. Read More About Excavation »


Tree Removal
Winds and severe thunderstorms can permanently destroy large trees. Even thoroughly developed trees are not immune to insect infestations and wood decay. When this occurs, you must take immediate action and get the tree cut down. We provide tree-cutting and removal services as part of our comprehensive offerings. Once the trees have been safely removed, our experts will reduce the stump down within a few inches of the ground. After we finish the job, we'll collect and dispose of all the debris properly. We are unrivaled in our expertise in this space and offer dependable tree removal services, and our prices are competitive. Over the years, our arborists have successfully finished various tree removal jobs. Our experience has taught us that every location calls for a different set of solutions. Therefore, we always come prepared. We work quickly and efficiently without risking anyone's well-being, and we leave behind a sparkling yard for you to enjoy. Read More About Tree Removal »


Tree Trimming
Shrubs and plants grow in a manner that is in harmony with the rest of their surroundings. On the other hand, natural growth and overgrowth can bring about issues over time. Damage from weather or storms, diseases, or pests could be to blame. Human actions, such as building or demolishing structures, can sometimes affect the development and health of shrubs on a site. Tree trimming helps ensure that your trees stay healthy and look great. It also helps prevent them from becoming a risk during storms as trimmed branches are less likely to catch the wind uprooting the trees from the ground. We offer a range of trimming services, including pruning, and clearing twigs based on the plant's condition and age. We work using cutting-edge tools and equipment to finish the project safely and efficiently. Our team works on big and small residential and commercial projects. Read More About Tree Trimming »


Pruning
Although trees are much more resilient than other plants and bushes, they still need care and upkeep to survive. Trees benefit from routine pruning and trimming because it keeps them healthy. During the process of pruning, members of our team will instantly address any infestations that are discovered on the trees. Containing the infestation and stopping it from spreading to other trees and plants in the area is a top priority. They will expertly prune any broken branches or twigs to ensure that your trees remain healthy. We are confident in our team's ability to finish the job efficiently because of their considerable training and expertise. We take all required procedures to ensure safety when cutting trees. Get in touch with us if you see that the plants on your land are growing disorderly so that we can provide you with the most effective pruning methods. When you employ us, you will receive outstanding solutions and a good return on your investment since we offer specialized services. Read More About Pruning »


Stump Grinding
You could be left with unsightly stumps that need to be cut if the tree removal job on your property hasn't been done correctly. This is because a stump can quickly become a cause of accidents and ruin the appearance of your yard. We provide high-quality, reasonably priced stump grinding services. In addition, we get rid of all the wood chips and splinters as quickly as we can. Even the most difficult-to-reach areas of your property are easily accessible thanks to our stump grinding equipment. We can get within inches of a building's base using cutting-edge tools when we cut down trees without causing any damage to the structure. When you hire us, you can rest assured that our highly skilled professionals will grind the stump. They can effectively carry out their jobs with all these resources at their disposal. We never skimp on efficiency or safety and work hard to earn your complete satisfaction. Read More About Stump Grinding »


Cleanup
We're known throughout our service areas for our reliable, fast, and reasonably priced Spring & Fall clean-ups. Whether it's springtime or fall season, our skilled crews can ensure a spic and span lawn using the right tools and equipment. We will get rid of debris, dead leaves, and other unsightly materials like broken branches, stumps, and diseased tree limbs. Read More About Cleanup »


Fence
We design and build the most popular types of fences including wood, vinyl, chain link, and ornamental aluminum fences. Your fence plays a versatile role in your landscape, offering privacy, security, and making your outdoors a more beautiful place. Fence designing and installation are part of our landscaping solutions and we can offer them as an independent or integrated service. Our fence experts can design and install wooden fences that add a touch and feel of organic and natural materials to your landscape. From picket fences to vertical boards, we work with all types of wood fences. Our chain link fences offer benefits such as affordability, durability, and low-maintenance ownership. Our ornamental aluminum fences can be designed to any style and design option. Read More About Fence »


Commercial Snow Removal
We are a leading commercial snow removal company dedicated to providing businesses of all sizes with safe, reliable, and cost-effective solutions. Our company handles snow removals for various businesses throughout the region. With a solid commitment to safety, we prioritize the well-being of your employees and customers, employing cutting-edge equipment and industry best practices. Our unwavering reliability ensures business continuity, with round-the-clock availability and swift response times during snow emergencies. We have invested in modern snow removal equipment and tools that improve efficiency and safety. Moreover, we understand the importance of cost-effectiveness and work closely with clients to tailor plans that optimize resources without compromising quality. When you choose us for your commercial snow removal requirements, you have the peace of mind that comes with a winter weather solution you can depend on. As mentioned, we offer cost-effective commercial snow removals, so you don't have to think twice about calling professionals for this essential task. Read More About Commercial Snow Removal »

For any more information about landscaping and to discuss your project details, speak with the Atlas Landscaping and Construction experts at this number - 440-728-4879. You are assured of the best services at a very reasonable landscaping cost.